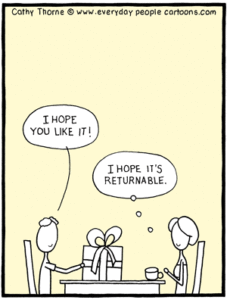 What will stay with me from Christmas Day this year?
Well, the meal was excellent.

Excessive but excellent, and I frightened myself by my positively Catalan approach to drink this year.

Though I have to admit that there is still the meal for my Name Day, today, Boxing Day to drink myself to stupefaction!

Though I probably won't.

Sadly.
So, what was there to remember?

The element which is going to stay with us all was the introduction of a new feature at the end of the meal of the Most Hated Present Distribution.

The idea was that everyone would choose something they had been given which they still had but really wanted to throw out; wrap it beautifully and bring it to the meal.

Each person would be given a ticket with a number on it and, starting with the highest number they could make a free choice of any of the wrapped gifts.

The interesting part was that each person could demand a swap with the gift that any person who had already chosen – so you can see the importance of getting a low number.
The gifts, with one signal exception, were awful and I must admit that I rather deliberately left mine in the house where we had the meal!
Perhaps the best way to give a flavour of the experience is to explain that Toni was delighted with his final gift, as he was able to swap two dreadful candles in faux bamboo for a pair of underpants!

I think that says it all!
More presents today – thought I hope the ones directed towards my grasping fingers have a modicum more thought behind their purchase than the horrors we saw on Christmas Day!
The poem on which I have been working for the past few days is called Standing on thin ice, and I have only managed to get a very rough structure in place so far.

The images are still not working as I want them and the whole thing is still too fragmented but, and this is always encouraging, it is better than yesterday's version!

Having said that, there is always a possibility that all my work will come to nothing as sometimes I decide that the compositional problems that I have been working on are not capable of the solution that will satisfy and all the work is shelved.

Hopefully not with this one.
You can check the poems that made it as far as my new poetry blog at
where you can read through what I have written and find some explanatory information about the inspiration and setting for some of the later examples.

Anyone reading my poems is more than welcome to comment on them, and I will respond to any thoughts.